Call for applications: Youth Ambassador, SEAT Initiative
Submitted by

ADEA

on 14 November, 2017 - 14:02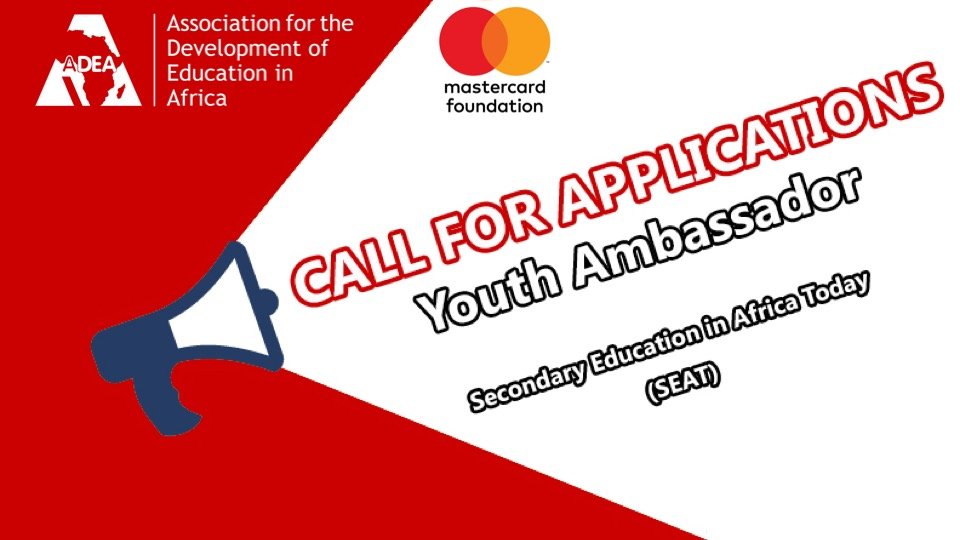 Introduction
The Mastercard Foundation, together with a group of strategic partners, has initiated a collaborative effort to take stock of progress in expanding access to quality, relevant and inclusive secondary education on the continent and to propose a forward looking agenda. The primary focus of this effort is the role of secondary education in preparing African youth for the future of work and for helping youth to acquire the skills, knowledge, and behaviors necessary to compete and succeed in the job market as responsible citizens, including both informal and formal sectors.
This effort, entitled Secondary Education in Africa Today: Preparing Youth for the Future of Work (SEAT), builds on the World Bank's Secondary Education in Africa Initiative of 2003 to 2008, which was aimed at African policy makers and development partners, and was intended to take stock of the state of secondary education across the Continent and to identify policy options and evidence based strategies for increased support.
The effort will include a process of ongoing consultation, engagement, and dissemination of these knowledge products widely through a variety of formats. It will engage a diverse set of stakeholders, including African governments and policymakers, secondary education experts, bilateral and multilateral donors, private foundations, NGOs, private sector employers, representatives of civil society, and youth.  We seek to have young people influence priorities, provide context, review and discuss findings and recommendations and promote dissemination throughout the research process.
The Mastercard Foundation is convening a group of 5 young people from Sub-Saharan Africa (SSA) representing a range of perspectives who can contribute to this project study, both as contributors and as 'ambassadors.'   Youth Ambassadors will provide insights, inputs as well as direct contributions at important junctures, from design to completion and dissemination of the project's products.  The Foundation seeks balance in the selection of Ambassadors in terms of region, gender, and experience, including experiences with conflicts, disability, refugee status, education etc. 
The Foundation is partnering with the Association for Development of Education in Africa (ADEA) to engage Sub-Saharan African policymakers and youth throughout this process.  ADEA will take a lead role in working with the Youth Ambassadors and facilitating their participation and inputs in the process.
Selection Process
Ambassadors will be selected by the Mastercard Foundation's and ADEA's networks to ensure the full range of diverse opinions. The age limit of the youth who can apply shoul be 35. No degree required but the applicant should have completed the secondary education. As part of the selection process, applicants will be asked to submit an essay (details on the essay question below). Applicants have to submit all required documents by 30th November 2017 at midnight. The selection will be based on an assessment of the essay and curriculum vitae.
Essay (500 words):
Based on your experience, what is the most important challenge you faced in secondary education?  How might you raise awareness or mobilize others around that challenge? You could use one or a combination of medium (e.g. essay writing, drawings, video clips, podcasts) to answer the question.
Time Commitment and Role
Youth Ambassadors will participate over approximately 18months, from January 2018 to as late as March 2019.  We anticipate that involvement in the project over the course of this period will be equivalent to approximately 5-8 hours a month, for a totally of 12-15 full days. The Foundation is able to offer a modest stipend to Ambassadors to compensate them for their time in this initiative.  Additionally, the Foundation will cover costs of participation, including attendance at meetings (i.e. travel, meals, and accommodation) and other incidental costs.
Expected tasks
Contribute to drafting questions for a survey of youth views and priorities on secondary education in SSA
Support in the dissemination of the survey to young people to hit the target of 200 surveys completed
Support in the compiling of data and analysis of the survey to feedback into the report
Contribute to reviewing the Concept Note and intermediate and final reports of the SEAT initiative
Conduct small focus groups with other young people to gain a better youth perspective and ensure the greatest amount of voices are heard and included
Participate in 1-2 Ministerial conferences or other meetings in person (likely in Africa)
Participate in 5-7 virtual meetings (primarily via conference call or Skype)
Provide feedback and editing of report on youth views on secondary education, in partnership with ADEA
Serve as author(s) or co-author(s) of 2-3 youth blogs on this subject
Participate in the launch of the Secondary Education in Africa Today (SEAT) report in late 2018 and early 2019
Help to disseminate the report and publicize it through personal and professional networks
Contribute to discussions via a WhatsApp group of young people to be able to respond to real-time questions for the report
Submission of applications
The candidate should submit an essay and a CV to applications@adeanet.org no later than 30th November 2017 at midnight (12:00 am) GMT.
Deadline:
Thursday, November 30, 2017